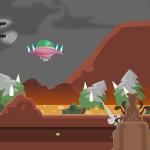 Alien Abductions II
Action adventure games are always attractive to players. Do not miss the chance to explore the online game Alien Abductions II at gogy 2 for kids. This game has many new things. The game will appeal to you the first time you play. The game requires you to use a variety of skills. So, you will need to act fast and watch carefully to become the winning player.
The game is for the sole player. You will not need to play with the opponent. But you will need to play faster because of the limited time. If the time has not reached the required score, you will have to play again from the beginning. The game builds an adventure battle. You are flying in space, your task is to destroy all enemies underground. You will use fire weapons to burn everything. Do you understand the requirements in the game?
Your enemies are very much. They are everywhere on the road. They will use guns and shoot at you. Your flight path passes through the volcano. Stay away from this place, you will be in danger when approaching. Use your weapon to burn all enemies and achieve high scores. The game will give you the feeling of being a brave warrior.
Do you have the confidence to destroy all enemies and get the highest score? I believe you will do it. Do not forget to share with your friends the fun in this game. And if you enjoy playing some other games Helicopter Adventure and Dragon Hunters at http://www.gogy2.xyz/ for a fun weekend. People will become closer.
Controls:
Use WASD keys to move,
Space keys on the keyboard to drop fire,
123E to change weapons.
www.gogy2.xyz
Rating:
5
out of
5
based on
1
user ratings