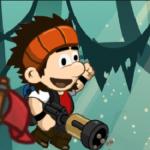 Custard Dave
Custard Dave game online at www gogy co m brings you to the world of adventure through various levels to return home. You must kill all the monsters that appear on the way and collect gold coins. Different levels will have different ways of playing that you need to move the most dynamically so as not to collide with the monsters or fall out of the way of the game.
This is one of the fun games that you can hardly miss when joining combat games. With instructions on how to move, you can easily kill the green monsters with your ability to shoot. This game is suitable for all ages because you can easily pass all levels. Be careful not to fall off the road. http://www.gogy2.xyz/ update the various online games for players to explore in their spare time with their friends. You are no longer bothered by ads as in other websites.
We help players participate in the latest free games that are updated daily with simple gaming tips that you will hardly miss in your game. Do not hesitate to search for the game you love and start exploring today. Heroes' battles have become more attractive than ever. Take part in this game to complete your mission.
In addition, we also constantly update similar games with this game in your favorite game list that you easily discover such as Gigi The Runner and Run Jump Fall. Let's start the game. Fight and challenge enemies as you progress through different levels of the game. It's easy to become the best player in these fighting games.
How to play:
AD or left and right arrow keys to move,
Space to jump,
K to shoot
www.gogy2.xyz
Rating:
5
out of
5
based on
1
user ratings