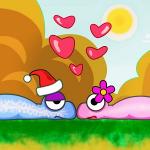 Dashy Worm
You become a worm and need to move through all obstacles in Dashy Worm game at http://www.gogy2.xyz/. This game has attracted players because its ability to move deep is extremely special. There are different flowers and boulders that appear on the way that the worm must complete with his abilities. With flowers, the worm has to dig the earth to go through them.
As for the rocks, he must jump over them and complete his challenge. It's great if you can help the worm to overcome all the challenges and achieve the highest score in each part. Share with your friends this game and they will be surprised by the content you have participated and overcome. The speed of the worm's movement will become faster and faster. You must be in the skills to move and deal in time with the appearance of obstacles in this game. We are constantly updating the latest games for Gogy2 online game players in the world. Will you overcome challenges with your own strength?
Learn moving skills and begin your journey to explore your garden with Uncle Dashy. If you collide with an obstacle, you will be penalized until you lose. Therefore, this journey becomes more special than ever and you have the opportunity to discover them with the highest score.
Share play tips and games so other players can also save this game to the list of favorite games today. Start a new journey and achieve your best results with other similar games such as Love Balls and Maze Lover
Controls:
Use WS or arrow keys up or down to jump over the rocks or dig the soil under each flower
www.gogy2.xyz
Rating:
2
out of
5
based on
3
user ratings