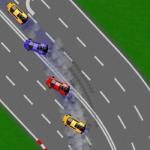 Drift Team
The different cars you choose to participate in the Drift Team game at http://www.gogy2.xyz/. Players choose their favorite cars and move until they complete the race with other drivers. Notice the map that appears in the game to move through the bends. If you collide with other vehicles or deviate from the road, you will slow down for your turn.
So, don't miss this game if you're interested in one of our most exciting driving games. Speed up, drive safely and get to the finish line fastest with your team. The cars with top speed are used in this special game. In addition, you also have the opportunity to participate in driving games with skills you have practiced. Save your game list and share with friends if they also love this world. As a child, you were surprised by 4-wheeled cars that looked like giant monsters.
Growing up, you understand its rules and want to join any game to explore cars at Gogy2 free games. This will be a great choice for those who love driving games and want to get involved in their free time. More specifically, you can perfect your game and share it with other players when you have free time. Start your new journey and show off the skills you have trained.
Players can choose to play games on the phone or computer with this game. Other driving games are recommended for online gamers around the world like Formula Drag and Checkpoint Run. Will you love them and want to participate?
How to play:
Use the arrow keys to move or reduce the speed
www.gogy2.xyz
Rating:
2
out of
5
based on
5
user ratings