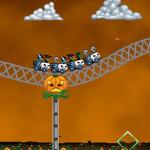 Ghost Train Ride
In this Ghost Train Ride, imagine that you have got a job as a train conductor in Nightmare Valley – A land of ghosts. And your aim here at Gogy amazing games is to keep the ride safe for your ghoulish passengers and make sure that they will have an unforgettable night. So, if you are ready, then click the Play button and start having fun.
Well, this game wants to challenge you with crazy spooky tracks full of unexpected twists and turns. Then, make use of your driving skills to control your scary roller coaster train. Ensure that you can brake and accelerate in the proper time not to crash and fall out of the train.
Bring your passengers through the freakiest parts of this ghostly land and watch as their Jack O' Lanterns smiles widen with excitement. The wider the Jack O' Lanterns smile, the more fun the passengers have! There are altogether 15 tracks named differently. Depending on your performance, a Bat Rating is given at the end of each track. And higher ratings will unlock new tracks. Do your best to finish all the tracks with full Bat Ratings. Have a good time!
If you want to play more similar games, you can try the following games Trial And Terror and Falling Orbs. Check out our site http://www.gogy2.xyz/ to discover interesting things with new and fun games updated every day!
How to play?
Press the Left arrow key to brake;
Right arrow key to accelerate
Left mouse button to interact with other items in the game.
www.gogy2.xyz
Rating:
5
out of
5
based on
1
user ratings