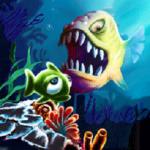 Hungry Fish
You've helped the fish move to find food and the way home. If you have never played the Hungry Fish game at gogy game play, start your journey now and help the fish cross the columns. appears on the screen. If you collide with them, the game will end immediately. The score you get is the way you pass in the game. See what the highest score you can get in this game.
We always help players play the game with the easiest of the basic gaming tips that you can hardly miss to get the highest score. Share with your friends and help them win. Or you can hold a contest to see who can win in this game. http://www.gogy2.xyz/ keep up to date with all the different topics and age-appropriate games so you can explore in your spare time and relax with more fun.
It's good to have your mission accomplished and achieve the highest score possible with the different moves in this game. The columns have a certain distance and they will become increasingly narrow in this game if you play to the next difficult stage. This is one of the obstacles that hinder players from participating in this game. Are you able to complete your journey without any obstacle?
Check your ability and start this new journey. Some of the same moving games are also constantly updated that you cannot ignore when playing online games such as Cats Go Fishing and Fish Eat Fish 3 Player. Get ready for your journey today. You will love these exciting games.
Controls game:
Left click to jump and move to avoid the obstacles in the game
www.gogy2.xyz
Rating:
3.6666666666667
out of
5
based on
3
user ratings