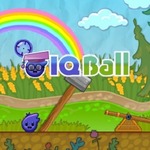 IQ Ball
IQ Ball is a physics based cool math game online at gogy 2 free. During this game, you take the role of a cute little ball and your goals is to help the little purple creature to grab the red-and-white target. Move your mouse to aim; Press and hold left mouse button until your reach the spot and reach the target in as little clicks as possible! Have a good time!
In the game at gogy 2 player, you can do this as many times as you can, even when flying in the air. You can stick your IQ ball to static objects such as wall or electrical wire, or moving objects like mill wheel, or cable car. Once you progress in this game, the levels will become more and more difficult.But don't worry! If you haven't finished a lever for the first time, in the top right, there is a restart button; and after each level you can see your IQ score. Use your spike to push away and remove items in your way such as boxes or stones, which will act like obstacles and are in your way to get to the red target.
I went into the game expecting another run-of-the-mill grappling game, but was surprised by its ingenuity in a genre that has produced games based around frustrating physics and mediocre ideas. Haha! Just try not to get too overwhelmed by IQ Ball's cutesy graphics and upbeat soundtrack.
IQ Ball is a fun little puzzler that will leave a smile on your face. We are so thankful to receive your feedback. If you feel excited about this game, please share it with your friends. Explore a number of awesome games such as Red Ball 3 and Red Ball 4 at http://www.gogy2.xyz/. Much time!
Controls: Use your mouse to play this game
www.gogy2.xyz
Rating:
5
out of
5
based on
1
user ratings