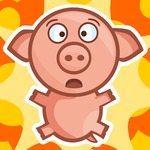 Iron Snout
Iron Snout at www gogy is a cool fighting game about little piggies and big bad wolves. In the game, you control the cute, pink and your main aim is to helpa piglet fight for its life against hordes of wolves, skillful pig standing holding your position against countless wolf attackers coming from both sides. How long you can withstand this challenging game?
Get your hooves ready - Kung-fu piglet. It's time to kick some wolf snout! Before they get to harm you, punch, kick, jump and crouch to hit the crap out of them. In this glorious clash of piglet versus wolf at gogygame, plenty of action moves are available to help you. Act fast to avoid all kinds of attacks such as chainsaw killers, flying rocket kamikazes or suspicious, big-eyed grannies. Much fun!
Stand like the brave pig you are, snout-to-snout against evil creatures such as axe-wielding wolves, deadly-pogo-jumpers, wolves trying to crash a firework into your pink tail or annoying mini-wolves. Use movie-like combo moves to fight hilarious, but dangerous enemies and use enemy body parts and weapons to aid your battle. Beat as many enemies as you can.
We are glad to see your comments. Rate and share this game with your friends to invite them to play with you. Play other awesome games like Eagle Ride at http://www.gogy2.xyz/. Much fun!
☆☆☆ Features ☆☆☆
☆ Endless fast-paced action-packed hoof-based combat
☆ Fighting combos
☆ Super easy and hyper-responsive touch controls
☆ Charming cartoony graphics
Controls: Use the Arrow keys to kick in the right direction.
www.gogy2.xyz
Rating:
5
out of
5
based on
1
user ratings