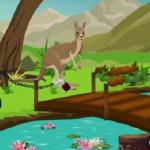 Kangaroo Escape
Your Kangaroo gives birth to a baby, but the baby is trapped in a neighbor's ranch. How can you save Kangaroo? Solve puzzles in the Kangaroo Escape game online at gogy unblocked games and you will save Kangaroo. There are many challenges set for you and you can refer to the hints to solve them quickly and win this game. This will probably be one of the hardest puzzle games you have ever played. Not everyone can accomplish tasks in the levels of this puzzle game.
You will need the help of friends or the suggestions of the previous players. However, think carefully before using the help. The simplest things always hide in the symbols that appear on the screen and they will lead you to the final answer to save the Kangaroo child.
It's great if you become a great detective and answer the different answers for this game. http://www.gogy2.xyz/ are always updated with daily puzzle games that allow players to explore different games in their spare time. You do not have to waste time searching for games by topic. Just join any game in your favorite games list today. The interesting and mysterious things will appear when you find your answer in this game. Everything has a reason to appear in each picture.
We always recommend the best games with different attractive content that you can hardly ignore like Jumping Angry Ape and Panda Simulator 3D. The puzzles will lead you to the secret world and you win these games with the highest score. Get ready for a journey of discovery like Sherlock Holmes today.
Controls game:
Use the left mouse button to answer the hints in the picture on the screen where the baby Kangaroo is hidden
www.gogy2.xyz
Rating:
5
out of
5
based on
1
user ratings