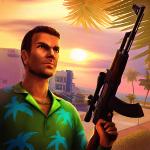 Miami Crime Simulator 3d
Miami Crime Simulator 3d at http://www.gogy2.xyz draws in front of the player a world with absolutely special battles. You can hardly take your eyes off the screen if you join this online game. Use guns, bullets or any weapons you are provided to fight. The opponent is also shooting you. Therefore, you can find a hidden position to avoid being injured before destroying all enemies.
In addition, you also have the opportunity to use cars, tanks or other vehicles to move to a new location in the city. If you start with destroying 10 targets in this game, the next level of your mission will be more difficult. Get familiar with the battles and complete them in the best way. You may have trouble joining this game. However, don't be discouraged. Each mission has many different ways to overcome. You will discover the new world in this game at Gogy2 action games. Share with your friends if they are looking for a 3d game with different weapons that you can easily use to fight.
We constantly bring players new worlds that you can discover and complete in the best way. Get close to the specials of this game and you will be passionate about it and want to participate when you have free time. That's why this game is listed on the list of addictive games. Enemies are surrounding you. Find a way to get rid of them and get the highest score in your game. You will pass the tasks excellently.
Don't hesitate to unlock all the tasks today and other similar games like Scar and Army Combat. Save on your favorite game list to join.
Controls:
Left click to shoot or throw grenades, arrow keys or WASD to move and avoid enemies
www.gogy2.xyz
Rating:
4.5
out of
5
based on
12
user ratings