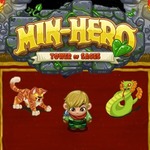 Min Hero: Tower of Sages
And it happens in real life all the time. If you paint a pig with electric stripes and give it a flame thrower to battle against other pets with or you're asking to have your face blurred out on the evening news. Welcome to Min Hero: Tower of Sages at gogy 2 juegos. In the game, play as a new initiate into the Tower of Sages, your goals is to battle your way to the top to prove you're worthy of training even the most powerful creatures ... the titans.
This Min Hero: Tower of Sages game at jugar juegos gogy is a beautiful RPG strategy game. Select attacks wisely to bash down all opponents. Using upgrades to increase their skills and abilities continously. Train your beastly mini fighters; collect over 100 minions as you fight to prove yourself in the Tower of Sages; send them out to epic battles at the Tower of Sages. Much fun!
Each set of floors will grant you pieces of six seals you'll need to win to be the very best, like no one ever was. Grab your freaky leafy snake thinger and your weirdo Vader beetle dude and get cracking.
Do you love this game? Everything is displayed by icons on the screen and you just have to click on the icons until you are satisfied. Asides, there are some similar games that you will love to play like Tower Defense and StrikeForce Kitty 2 at http://www.gogy2.xyz. Good luck!
Controls
Arrows or ASWD to move
Press Spacebar to interact with objects
www.gogy2.xyz
Rating:
5
out of
5
based on
3
user ratings