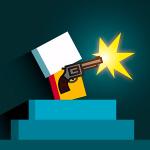 Mr Gun
Mr Gun is an awesome arcade shooting game. In this game, you play as a pixel man trying to kill as many enemies as possible. Here at gogy.x, your task is just to aim and shoot. The enemies also can attack you, then, if you miss the target, it's you that is shot down, and naturally, you lose the game. So, how to aim exactly?
The stairs can help! Use the stairs as a gauge and adjust your weapon until the path of the bullet is almost parallel to the stairs. This will usually bring a headshot. And, headshots are valuable. The game will reward you with double scores and extra coins for every headshot you make. The more headshots you make in a row, the more rewards you will receive. Even better, it is also easier to defeat your enemies if you hit their heads.
It will take a lot of adjustment in the beginning to master how to aim quickly and score headshots, but keep practicing and they will become easier. Another important thing is to find the perfect weapon. Your default weapon is the USP-S. With high accuracy but low damage, it is a good starter for beginners, but, it's not powerful enough as you progress in the game. There are a lot of weapons available in the Gun Store and each weapon has its own set of benefits and disadvantages. Try out different ones and carefully consider which one is perfect for you. Enjoy the game!
You may want to play more shooting games like Flip The Gun and Agent P Rebel Spy. Check out at http://www.gogy2.xyz/ and you can find fun games every day!
How to play?
Use your mouse to play this game.
www.gogy2.xyz
Rating:
1
out of
5
based on
1
user ratings