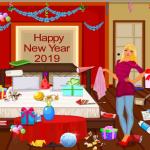 New Year Bedroom Cleaning
The New Year is always a time where you spend some time cleaning your house and welcoming the best. The New Year Bedroom Cleaning game at http://www.gogy2.xyz/ will help you complete all tasks in an excellent way. You will be pleased with the arrangements for the objects in the room. Each item is arranged in the correct order, you will earn points. Conversely, if you click on the wrong item or misplace their position, you will be penalized until the game ends. The bedroom is extremely messy with decorations and garbage.
You need to find out exactly where the garbage is and put them in the trash. Then arrange the decorations in the right place so that the room becomes cleaner and tidy. This will be one of the games that require meticulousness and care in your arrangement. Everyday life is very busy and you don't have much time to clean up your room. The end of the year is when you start to be more patient and hardworking to be able to welcome the good of the new year in this game at Gogy 2 xyz online free game.
Please accept similar games like this game on our website. Each online game opens up a large world that allows players to explore lessons without spending much time and effort. Share with their friends if they're not ready for the New Year. Did you love your journey in this game? We also update the latest games for players to join in their free time like Adventure Of Curious Knight and Baby Hazel Frozen Adventure. Please welcome a new year with new things today.
How to play: Left-click and drag the objects you want to classify into 2 positions displayed on the left and right corner of the screen. You will earn points if you complete those tasks

www.gogy2.xyz
Rating:
5
out of
5
based on
1
user ratings