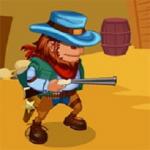 One Hand Cowboy
One Hand Cowboy is updated at http://www.gogy2.xyz/ that will take players to the world of shooting games. Cowboys use guns with one hand and complete all the missions of the level in the best way. If you are familiar with shooting games, you will know how to complete your game when participating in the levels of this game.
Each turn, you have 3 bullets to hit the front plate. Take advantage of them and get the most accurate shooting right from the first few plays. The sign will move or obstacles appear to hinder your shot. Players need to adjust their gameplay and win all levels of the game. After that, you can join this shooting game many times to draw experience and gaming tips to help the following players can best complete the game at Gogy2 shooting games.
With our special game world, players have the opportunity to participate and satisfy their free time without being bothered by ads or game loading speed. Different ways of playing will help you train your skills to win. After completing all levels, you can join the game again and again. Cowboys are a famous figure in films as well as different games.
If you love the western world, you can explore this shooting game on our website. In addition, other similar games are also updated continuously in your game list like Mr.Bullet and Wild West - A Minecraft Shoot 'em Up. Don't hesitate to unlock all levels today.
Instructions:
Click the left mouse button when you have determined the exact direction of the trajectory
www.gogy2.xyz
Rating:
5
out of
5
based on
1
user ratings