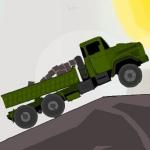 Russian Kraz
Russian Kraz is one of the most interesting race games at gogy kids. I believe that you will be attracted to the first time. Let's start playing now to enjoy. Wish you luck and fun. Racing games are quite popular with players. It feels great to play. Want to experience that feeling?
Do not miss the chance to explore the Russian Kraz online game at gogy car games. Become the best player with the highest score. In the game, a truck full of goods, your task is to move the car on the way to the destination. But the road is not smooth. There are many obstacles, you have to climb steep, downhill, potholes, and so on, all of them are big challenges in this game. You need to be extremely intelligent to control and pass without falling cargo.
It's not simple, right? But it will help you more skillful, better observation. Need to move the car to the right speed, if too slow you can not climb the slope, if your speed is too fast, the items will fall down the road and the car is reversed. The speed of the car is very important, it will help you overcome the potholes on the road. If you are stuck in a pothole, you have to play again. The game does not have many levels, no scores, just you pass to the destination and keep the falling goods will win. Be careful in this game.
With vivid graphic design, eye-catching graphics, this game will make you feel very interesting. Invite your friends to participate in this game to have a relaxing moment in life, have a more meaningful weekend. People are closer. If you love this game, you can play some other similar games like Jeep Ride and Monster Forest Delivery at http://www.gogy2.xyz/
How to play:
Use the arrow keys to move up
Space keys on the keyboard to brake the car.
www.gogy2.xyz
Rating:
5
out of
5
based on
1
user ratings