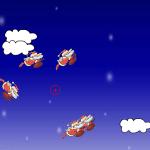 Santa Hunting
An ongoing chase in the Santa Hunting game at gogy 2 player. Santa's mission is to deliver gifts to children around the world while the mission of shooting them down. Clouds may obscure your view or Santa moves in different directions, making it difficult for you to focus on the correct shot. Use your basic shooting skills and complete the missions in this game.
The player only has 1 minute to shoot down all the Santa Claus appearing in the sky. The highest score will correspond to the number of Santa you shoot. Break your record by playing this game by playing it over and over again. Santa Claus will fly very fast and you need to shoot continuously before they disappear in the sky or hide into flying white clouds. http://www.gogy2.xyz/ update the latest Christmas games so that players can join in their spare time.
Holidays will make you curious about new games. Share with your friends and see who's breaking the last record in this game. Certainly, we will help players to play the game without being bothered by ads or load factors. Shoot as many Santa as you can in 1 minute as possible. You will test your shooting skills and entertain in your free time with the most exciting playable content.
In addition, we are also constantly updating new games for players around the world to explore in free time like Late For Halloween and Duck Carnival Shoot. Each game is the different stories that you need to explore. Do not miss out on your opportunity today.
Controls:
Use the left mouse button to shoot the gun in this game and aim the shooter correctly before you shoot
www.gogy2.xyz
Rating:
5
out of
5
based on
1
user ratings