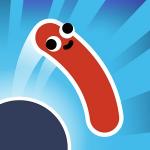 Sausage Flip
It's funny when you see the sausage appear in the Sausage Flip game at http://www.gogy2.xyz/. It can move and jump through different positions to complete its part in the game. There are many different positions from the hand to the finish line. You need to adjust the direction of the sausage movement and help it complete the best part of the game in this game.
Sausages can stand on very different terrain. And after jumping over the positions, you need to adjust its direction to move to the finish line and win each level. Game tips will help you control the sausage in the best way. This fun game is for all online game players to relax and complete with the highest score. You won't be bothered by ads or game loading speeds like when playing games at other websites.
The sausage trip will become more and more difficult because of the appearance of many obstacles. Don't hesitate to join this game at Gogy2 free online game. Enjoy the new exciting journeys that any game doesn't have. Players can immerse themselves in the journey and expand exploration skills today. Share with your friend's gaming tips if they are also participating in this game and have not passed. We also help players overcome suggestions with different challenges. Will you win and complete the levels in this game?
Get ready for the journey and enjoy the skills you gain while playing the game. Relax with the highest score you have. You will love your new game and other similar games like Dashy Worm and Flappy Cube Challenge.
Instructions:
Use the left mouse button and specify the direction of movement before you release the mouse button.
www.gogy2.xyz
Rating:
3
out of
5
based on
7
user ratings