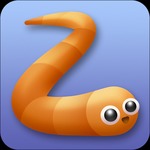 Slither.io
Slither.io - The smash-hit game!
Slitherio is one of our hand picked mobile io game at Gogy2game. Play against other people online! Can you become the longest player? If your head touches another player, you will explode and die. But if other players run into YOU, then THEY will explode and you can eat their remains!
In slither.io, you have a chance to win even if you're tiny. You can swerve in front of a much larger player to defeat them, no matter how big you are!
How to play Slither.io
Controlling your snake in Slither io at gy 2 is simple, as your snake is entirely controlled using the mouse. The worm will continuously slither in the direction of your mouse pointer, so turning your worm is as simple as moving your mouse. Both the left and right buttons on your mouse serve as a quick speed boost, allowing you to get out of the way of enemy worms quickly. Slither.io features cartoonish graphics and no text, sound, or music, making this a safe game for both school and work. By sharing the game on social media, you can unlock new skins.
Play Slither now and start slithering from http://www.gogy2.xyz! We are very thankful for getting your feedback. Rate the games highly. Recommend them to your close friends. Have a good time!
www.gogy2.xyz
Rating:
4.56
out of
5
based on
25
user ratings