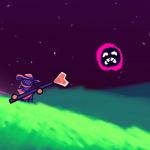 Starlight Wrangler
Different meteors move and bump into you in the Starlight Wrangler game at http://www.gogy2.xyz/. You can try to stay away from them and make them connect with each other with special strings appearing in the game. At each level, the player has a certain number of lives and you can use it to fight. With the novel content of the game, players will enjoy the new game space that is not available in any game.
You move and complete all tasks without being bothered by ads or game loading speed. It is this special feature of the game that helps you overcome all the challenges without the help of any factor. Follow the instructions of the game and keep the game tips you learned from the first level or from previous players. How to play this interesting game will make you want to share the game with other players in the game list.
We are constantly updating new games with different themes that players around the world can hardly miss to relax after every hour of work or stressful study. The world of Gogy new game is the world for all players who come from everywhere with their own age and preferences.
Thousands of games with interesting content exclusively are for you to explore. Are you ready for your special opportunity today? Let's start with the journey of many other similar games like Round Hit 3D. and Amaze. Will you have completed your game?
Instruction:
W to jump
A to run left
D to run right
R to restart
Left mouse button to attack
Right mouse button to pop a chain
www.gogy2.xyz
Rating:
5
out of
5
based on
1
user ratings