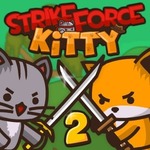 StrikeForce Kitty 2
StrikeForce Kitty 2 is an action game at gogy 2 player online. Our favorite kitty is coming back! If you like actions game but don't like games that are too violent, this game is what you are waiting for. It is a very cute game and suitable for everybody even children.
In the game at gogy girl games for free, play as 4 kittens and you have to fight to protect their empires - Their empire is in aggression by a cohort of foxes. The King of the empire, makes the kitten soldiers go to find the foxes and defeat them to protect all the residents.
To go to the end, there are so many levels that you have to get through. To become stronger, in each level, you have to fight against the foxes standing along your way and you can grab their clothes and weapons to equip your kitten soldiers, after the enemies are defeated. The higher the level is, the more enemies are there to hinder you; so, you have to beat all the enemies in the low levels to grab as many as you can.
If you love lovely animals like kittens, this game is a great choice for you. Are you ready to protect the empire? Send us reviews or feedback. Rate this game with 5 stars. Tell friends about it. Find Action games such as StrikeForce Kitty League at http://www.gogy2.xyz/. Much time!
Controls:
Use arrows to control your cat army.
www.gogy2.xyz
Rating:
4.8333333333333
out of
5
based on
6
user ratings