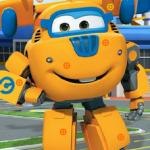 Super Wings Hidden Tires
You have 2 minutes to search for 15 hidden wheels in the picture of Super Wings Hidden Tires game http://www.gogy2.xyz/. Different levels correspond to different pictures that players need to overcome them. After selecting the correct vehicle, it will spin and you will earn points. If you press the wrong position of the wheel, you will be penalized. When the time exceeds 2 minutes or you press the wrong position of the wheel more than 5 times, the game will end immediately. Therefore, try to win your game with the highest score and pass all the levels with your friends if you share this special game with them. We facilitate players around the world to discover special things and complete tasks in the best way.
Players are not bothered by any of the new games at Gogy school game online. One of the special interesting features of this game is different from other games that are pictures exciting. Look closely at the picture and find the rotating wheels hidden there. You will love this special world and save the game to your list of favorite games so you can join it when you have free time.
We make it possible for all online game players to overcome the toughest challenges in a 2-minute period with gaming tips. Find the darker points and the circle appears on the picture. That is the wheel hidden in the picture that the player needs to search before the time ends. In addition, we also help players explore other game worlds like Geometry Dash and Kogama Kizi Adventure. You will achieve the highest score after completing the levels of this game.
Controls: Use the left mouse button to click on the wheels on the photo

www.gogy2.xyz
Rating:
5
out of
5
based on
2
user ratings