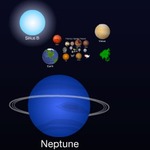 The Scale Of The Universe 2
The real size of the Universe remains a mystery. So, how big the universe was compared to everything else in it? You'll have some exciting discoveries at Games of gogy today! The Scale Of The Universe 2 brings a wonderfully illustrated perspective in which you just need to use the horizontal scroll bar then observe everything appearing. Zoom in or zoom out to see smaller and smaller things or bigger and bigger things, from the smallest unit of measurement – Planck Length to the largest – the Universe.
You'll see so many things such as subatomic elementary particles, atoms, molecules, viruses, bacteria, cells, animals, planes, ships, buildings, mountains, countries... And multitudes of bodies that exist in space such as moon, planets, stars, solar systems, black holes, nebulas, galaxies, superclusters and etc.
Besides, the game is a wonderful opportunity for you to discover the world. Just one click, you can learn more about any objects you meet in the game. It's interesting and very educational, right? Moreover, the game now is set up with better graphics, new commentary and 100 more objects than last time; which promises to bring amazing experiences.
Share it with your friends and enjoy together! Have fun! Try other fun games for free on http://www.gogy2.xyz such as The Impossible Quiz and Jagged
How to play?
- Use the arrow keys or the mouse wheel or the left mouse button to control the scroll bar.
- Use the left mouse button to interact with the objects in the game.
www.gogy2.xyz
Rating:
5
out of
5
based on
1
user ratings