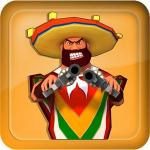 Top Shootout The Saloon
If you are confident with your aiming and shooting skills, test it out with a fantastic shooting game from Gogy land! This new game is Top Shootout: The Saloon in which you must take advantage of your skills to survive the one-on-one battle in the Wild West! As the professional shooter, you are trusted by the Sherriff to eliminate the evil outlaws. These bad guys have taken up residence in the saloon so you need to eliminate them quickly.
All you need to do is to aim properly and shoot down the outlaws. However, the hardest part is to make sure that hit the outlaws and avoid shooting any innocent citizens! As you shoot, there will be some power-ups floating around which can help boost your score. Acquire these bonuses and your firepower will increase significantly. Bear in mind that reloading is crucial so as not to run out of bullets.
Conquering the saloon with only three lives per level is not going to be easy, but with your amazing shooting skills, we guarantee that you will have fun with this cowboy shooting game at http://www.gogy2.xyz/! Another cool feature from this game is the different shooting scenes of the saloon to make it more interesting. You will be able to emerge in the vibe of the Wild West with such amazing settings! Conquer more battle with other shooting games for free such as The Cave Of Terror and Fresdoka!
How to play:
Press the left mouse button to shoot or reload.
www.gogy2.xyz
Rating:
5
out of
5
based on
1
user ratings