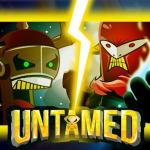 Untamed
In the Untamed online game, you play a great shaman of the planet of Zak where is being invaded by a space warlord named Zeon and his crew. And you are the last hope of Zak to fight with the invaders and save your hometown. Here at gogy free online, you are armed with a gun and a large stone totem.
The gun is used for killing your enemies. And the totem will serve as a shield that shelters you from enemy bullets. But, you should know that the ammo of the gun will run low after a certain time of the shooting and it needs time to reload. Then, to minimize the damage to yourself, make sure that you will take out your totem at the right moment.
After each fight, you can use the gold coins you have gained by killing enemies to upgrade stats, skills or other items. That's a long way ahead, then you must improve the strength of your character to progress to harder fights. You need to take some time to get used to the gameplay, so it's ok if you have several false starts. Try again and be brave, the planet is counting on you! Enjoy the game!
You may want to play more similar games like Tower Defense: Super Heroes. and Wars Of Worlds. Check out our site http://www.gogy2.xyz/ and you can find many different genres with a lot of fun games updated every day!
How to play?
Press W key or Up arrow key to move up;
S key or Down arrow key to move down;
Left mouse button to shoot and 123 keys to use skills (after unlocked).
Use your mouse to interact with other items in the game.
www.gogy2.xyz
Rating:
5
out of
5
based on
1
user ratings