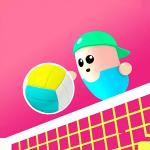 Volley Beans
In addition to moving in the Volley Beans game at http://www.gogy2.xyz/, you'll jump and hit the ball over the net to win the highest score when you join this game. Your opponent will be amazed at the ability to play sports that you have practiced and use skills to relax after every hour of studying or working hard. Each sport has its own rules and you can understand those rules to complete any game related to that sport.
Follow the instructions and learn how to move the ball to hit the opponent in the strongest way. If the ball falls on the opponent's side, you will score. On the contrary, you can lose at any time. Therefore, be careful with this game and complete when you are ready to overcome the best challenges.
We constantly suggest new players around the world with new games and you will relax and overcome endless challenges without being bothered by any of the elements at Gogy2 free games online. These simple games will help you on your journey to find the most comfortable things you need to relax. Do you understand the rules and be ready with your choices?
Players are able to explore new spaces of games and show the skillful skills they have practiced at similar games. Save your latest game list and start completing it in the free time you have. Players are not bothered by any factor when participating in games like Dude Basket and Guess The Soccer Star. All are free for you.
Controls:
Click the left mouse button to hit the ball to the enemy position
www.gogy2.xyz
Rating:
1
out of
5
based on
1
user ratings