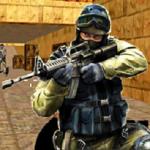 Operation Assault 2
The game online Operation Assault 2 is one of those shooting games built with the most realistic challenges and you can fight against all enemies with the correct shot in gogy free gear. The enemy will appear suddenly from all sides and you need to shoot as fast as possible before they kill you. Therefore, firing accurate shots will be your advantage when joining this game. You cannot imagine what is challenging you in this battle.
This 3D shooting game has attracted many players with the highest scores in the rankings of gogy games play online. So do not hesitate any more. Log on online or save at the computer the challenges you have experienced in this game. Then you have the opportunity to continue the game by moving, hiding and fighting against all the enemies in this special game.
Surely you will not be able to skip one of the most popular multiplayer shooting games at http://www.gogy2.xyz/ in the past few days. If you cannot shoot properly, move cautiously and practice the first skill to complete the task in this game.
We always update the latest shooter games daily so that players relax in their free time or challenge their friends like Apache City War. Have you saved the instructions in this game? Do not forget to choose the fastest computer and network speed to play games and not be bothered by ads on our website.
Controls game:
Arrows or WASD to move
Mouse for aim or shoot
Space to jump
Shift to sprint
F to take an item
www.gogy2.xyz
Rating:
4.4782608695652
out of
5
based on
23
user ratings